Quote from a Raving Fan:

"Earning my ITIL 4 Strategist – Direct, Plan & Improve certification was likely my favorite thus far. I am passionate about continuous improvement and this training incorporated a lot from lean and much more.

Pink Elephant instructor Robin Hysick was really successful in facilitating conversations, best practices, and experiences from the attendees. Thank you so much for your time."
COURSE OVERVIEW
---
The ITIL® Strategist – Direct, Plan, and Improve (DPI) course is "shared" course between two designation streams – the ITIL Managing Professional (MP) and the ITIL Strategic Leader (SL).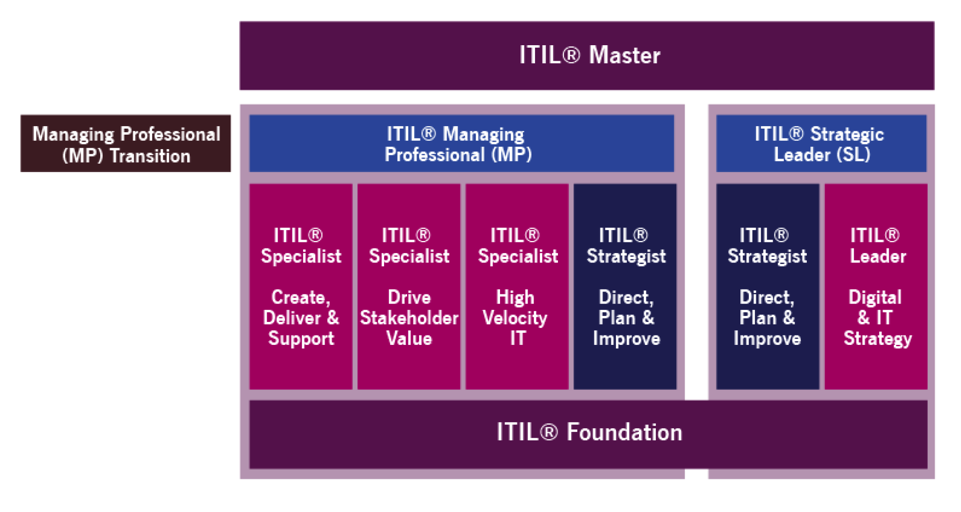 This 3-day course provides IT practitioners with the practical skills necessary to create a 'learning and improving' IT organization with a strong and effective strategic direction.
The DPI course focuses on these key ITIL 4 practices:
Continual improvement
Measurement and reporting
Portfolio management
Organizational change management
Risk management
Another major component of the course includes learning about the impact of Agile and Lean ways of working and how these methodologies can be leveraged to your organization's advantage. The course provides practical and strategic elements for planning and delivering continual improvements with necessary agility.
LEARNING OUTCOMES
---
Understand the key concepts of Direct, Plan, and Improve
Understand the scope of what is to be directed/planned and how to use key principles and methods of planning:

Learn how to cascade goals and requirements
Learn how to define effective policies, controls, and guidelines
Learn how to place decision-making authority at the correct level

Understand the role of governance, risk, and compliance (GRC) and how to integrate with the service value system (SVS)
Discover how to use the key principles and methods of continual improvement for all types of improvements:

Learn how to use the ITIL continual improvement model to improve the service value system
Learn how to identify assessment objectives, outputs requirements, and criteria as well as how to select an appropriate assessment for a particular situation
Learn how to define and prioritize desired outcomes
Learn how to build, justify, and sell a business case
Learn how to conduct improvement reviews and how to embed continual improvement at all levels of the SVS

Discover how to use the key principles of organizational change management to:

Identify and manage different stakeholder types
Learn how to establish effective channels for feedback and communication
Learn how to develop effective interfaces across the value chain

Understand how to use the key principles and methods of measurement and reporting in directing, planning, and improvement
Learn how to direct, plan, and improve value streams and practices:

Understand the differences between value streams and practices while learning how to select and use the appropriate techniques to direct, plan, and improve them
WHO SHOULD ATTEND?
---
This course is aimed at IT leaders and managers of all levels of the organization who are seeking to obtain the ITIL Managing Professional (MP) designation or the ITIL Strategic Leader (SL) designation, and/or who are involved in shaping IT direction and strategy.
PREREQUISITES
---
For this course you are required to have successfully attained your ITIL 4 Foundation certificate. You will need to provide us with a copy of your certificate upon registration in order to be admitted into this course. To look at available dates for the ITIL 4 IT Foundation Certification Course, click here.
EXAM & CERTIFICATION
---
Exam is administered by PeopleCert.
The exam is 90 minutes in duration, includes 40 multiple-choice questions and is administered online by an independent examination body. Participants are provided with an exam voucher so they can schedule the exam at their convenience on any date after completion of the course.
A passing mark of 70% is required to receive your certificate. An exam review is included in the course to help prepare attendees for the final exam.
You will attain 18 professional development units (PDUs) for Project Managers.
COURSE E-MATERIALS
---
Material for this course will only be provided as downloadable soft copy files that can be viewed on a variety of devices. Attendees may print a hard copy of the files in whatever format best meets their needs, and can use the files under the Pink Elephant Terms of Use.
MULTIPLE OPTIONS FOR HOW YOU CAN ATTEND THIS COURSE
---
Self-Paced Online:

Learn at your own pace from your computer, anywhere at anytime. Get the FULL course in e-learning format for six months.

Public Web-Based:

On specific dates throughout the year; hosted live online with our expert instructor.

In-House:

Live Classroom: On dates convenient to you; exclusively for your team at your location with our expert instructor.
Live Web-Based: On dates convenient to you; exclusively for your team, hosted live online by our expert instructor.
If you would like more information on any of these options, please call us at 1-888-273-PINK, email us at info@pinkelephant.com, or ask your questions via our convenient Chat window at the bottom right corner of this page.
SPECIAL OFFER – ITIL 4 MANAGING PROFESSIONAL (MP) PASS
---
Save BIG With our Bundle
This course is included in our MP Pass bundle – save over 30% off regular course fees and fast-track to achieving your ITIL 4 Managing Professional designation!
We're making it even easier and more cost-effective for IT professionals to obtain their MP designation. For a limited time, Pink Elephant is offering the MP Pass, which bundles all five advanced MP courses into one package, at a much lower cost than taking each course on its own.
The Pass includes access to all five MP courses and is offered in self-paced online format or live, virtual, instructor-led format.
Find out more about our special offer, including how to purchase here!
SHOPPING CART
---
View the terms and conditions related to our public courses.
Fees do not include applicable tax, which is payable for all events presented in Canada.
This course is part of the ITIL 4 Managing Professional (MP) Pass - to purchase the bundle, select one of the options below: