Pink Elephant
IT Service Management
Hall of Fame
On February 18, 2020 the first honorees were inducted into the newly established "Pink Elephant IT Service Management Hall of Fame". This program recognizes individuals who have profoundly influenced, significantly contributed, and made a long-standing commitment to the IT Service Management industry. The induction ceremony took place at the Bellagio, Las Vegas during Pink Elephant's 24th Annual International IT Service Management Conference & Exhibition.
The induction was hosted by Pink Elephant President, David Ratcliffe who introduced the proceedings by saying:

"Today, Pink Elephant is delighted to launch the "IT Service Management Hall of Fame". Over more than 30 years, we have seen ITSM evolve to where we are today – mostly through ITIL, the most widely referenced body of knowledge for developing and managing IT services.

During this time, a few unique individuals have become true ITSM Champions – promoting the use of good practices both within their organizations and to the wider audience of ITSM professionals through events like this. These Champions have also added their knowledge and experience to the growing body of knowledge. The Pink Elephant family has been a part of the ITSM and ITIL movements since the very beginning, and therefore we've had a front row seat in viewing how these individuals have made their contributions.

Hall of Fame Inductees have the prestigious distinction of representing the highest levels of inspiring leadership and success. They are true Trailblazers! We know there are many people deserving of recognition, but we're starting today by acknowledging the first 3. At this event next year, and in the years ahead, we'll continue to ensure that deserving IT professionals are recognized for their valuable long-standing work and commitment.""
Class of 2020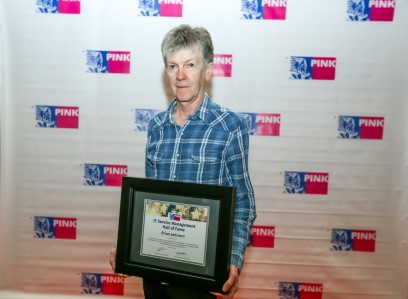 Brian Johnson
Chief Architect
ASL/BISL Foundation
Brian Johnson has been a major driving force behind IT Service Management from the very beginning, as one of the original authors of the first ITIL books, written when he worked for the Central Computer and Telecommunications Agency within the UK Government in the mid-1980s. Others played important parts in those times, but none has done more than Brian to get us where we are today. Since then he's published more than 30 titles about IT and business best practices, and has spread his message as a presenter to audiences in more than 40 countries.

Brian also initiated and defined version 2 of ITIL in the mid-90s.

Brian is also the founder of the IT Service Management Forum, (or IT Infrastructure Management Forum as it was called in 1991). itSMF, as many of you will know is a professional organization focused on IT service management and ITIL and now has chapters in 36 countries around the world.

Brian has advised IT professionals across numerous industry sectors on adopting IT best practices and is currently Chief Architect at the Foundation for the Application Services Library and Business Information Services Library in the Netherlands. This Foundation provides guidance on Business Information Management to a wide range of public and private sector businesses.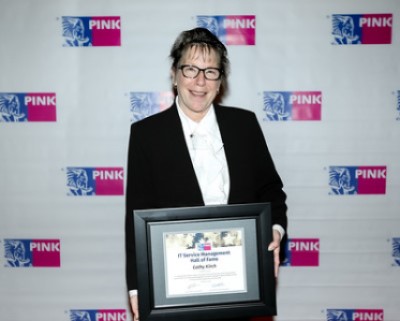 Cathy Kirch
Senior Business Analyst, Service Management
Argonne National Laboratory
Cathy is a front-line ITSM practitioner and has been a friend to the ITSM community for many years. As a longstanding technical leader within Infrastructure Services her experience has been focused on large enterprise implementations for the insurance and government sectors within Development, Engineering and IT Service Management. As a certified ITIL Expert, she led multiple process efforts and projects at Allstate Insurance – and spear-headed training for 100s of fellow practitioners.

Cathy has always been willing to share her thoughts, ideas and experiences of best practices – contributing to the growth of the ITSM industry worldwide. As a sought-after technology speaker she has been presenting on Service Management implementations and improvements at industry events since 2005, winning the "Case Study of the Year" award in 2012. Cathy is also a past recipient of the 2006 "ITIL Practitioner of the Year" award, a member of the "Project of the Year" award for 2007 while at Allstate.

Cathy also gives back to the profession by volunteering in various work groups and has played a major role with itSMF USA locally, nationally and internationally, helping to spread the word and promote the application of best practices. She was president of the Chicago Local Interest Group, and then moved onto the itSMF USA Board of Directors before becoming the Board President in 2017 and Past President in 2018.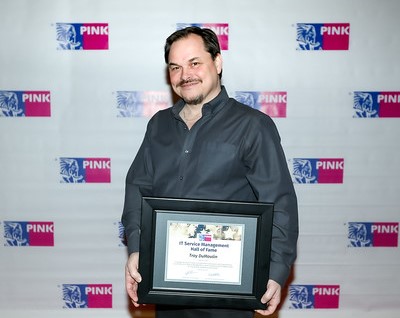 Troy DuMoulin
Vice President of Research & Development
Pink Elephant Inc.
Troy is considered by many to be one of the world's foremost ITIL® and ITSM experts. He is highly sought after by Fortune 100 companies to provide guidance on the latest trends in ITSM, Lean, Business Relationship Management, Organizational Change Management, Strategic Planning and Leadership.

As a leading IT governance and service management authority, Troy has exceptional expertise in Lean IT and DevOps as well as more than 20 years of experience in executive IT management training and consulting. He is a contributing author for many books, including publications focused on Lean IT, the Service Catalog and official ITIL® publications for editions 2 and 3. More recently, Troy was invited by AXELOS to work on the ITIL 4 update as a member of the Lead Architecture Team.

Troy was instrumental in establishing PinkVERIFY, the industry's stamp of approval for ITSM tool verification, which also provided guidance and direction to countless software vendors, providing them the guidance needed to create and maintain ITIL-compatible tool-sets.

Troy's blog is one of the industry's most popular and informative, and he is a frequent speaker at IT management events. He was also recently named one of the "Top 25 Industry Influencers in Tech Support and Service Management".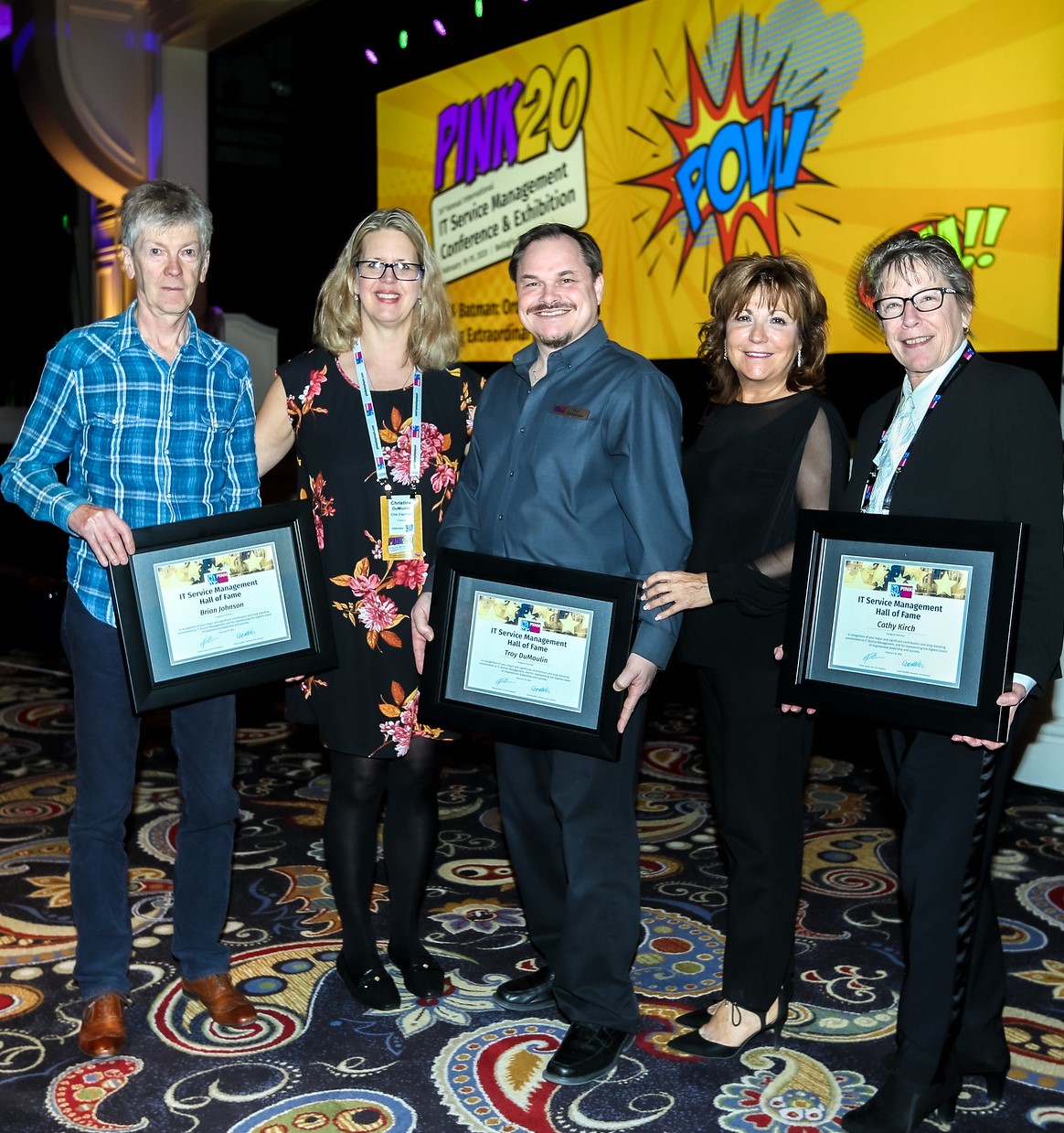 Brian Johnson, Christine DuMoulin (wife of inductee, Troy DuMoulin), Troy DuMoulin, Fatima Cabral (Pink Elephant CEO), Cathy Kirch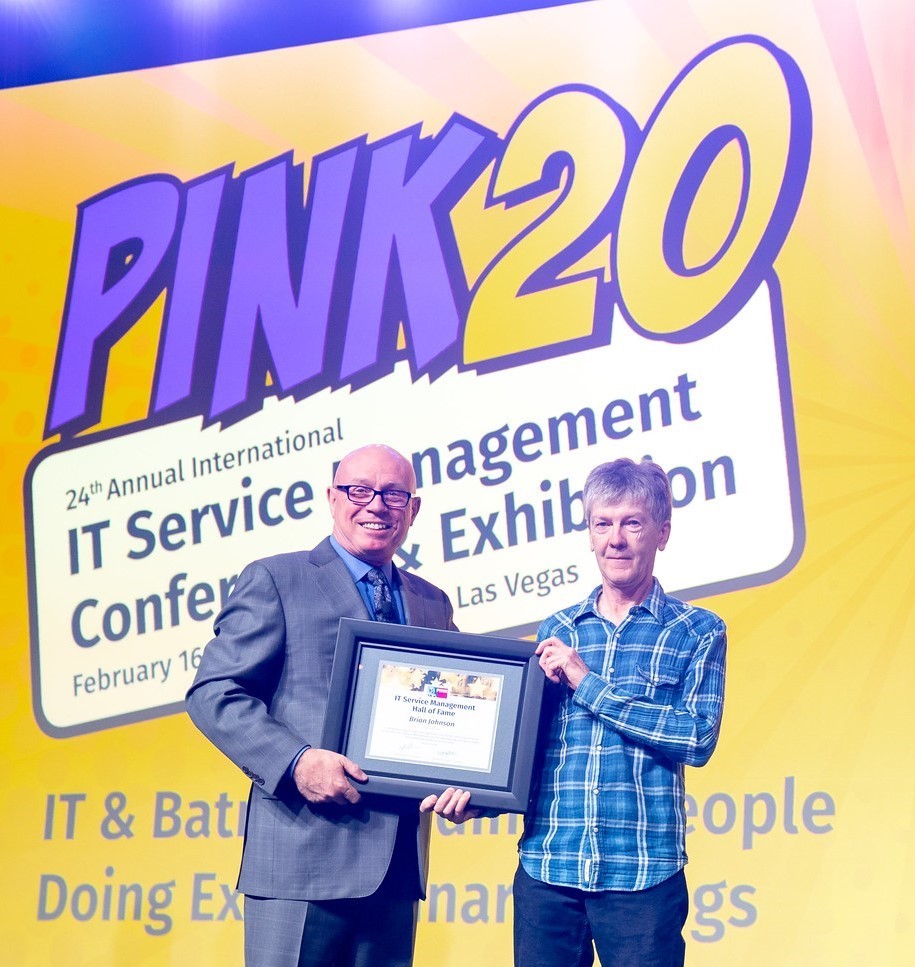 David Ratcliffe (Pink Elephant President), Brian Johnson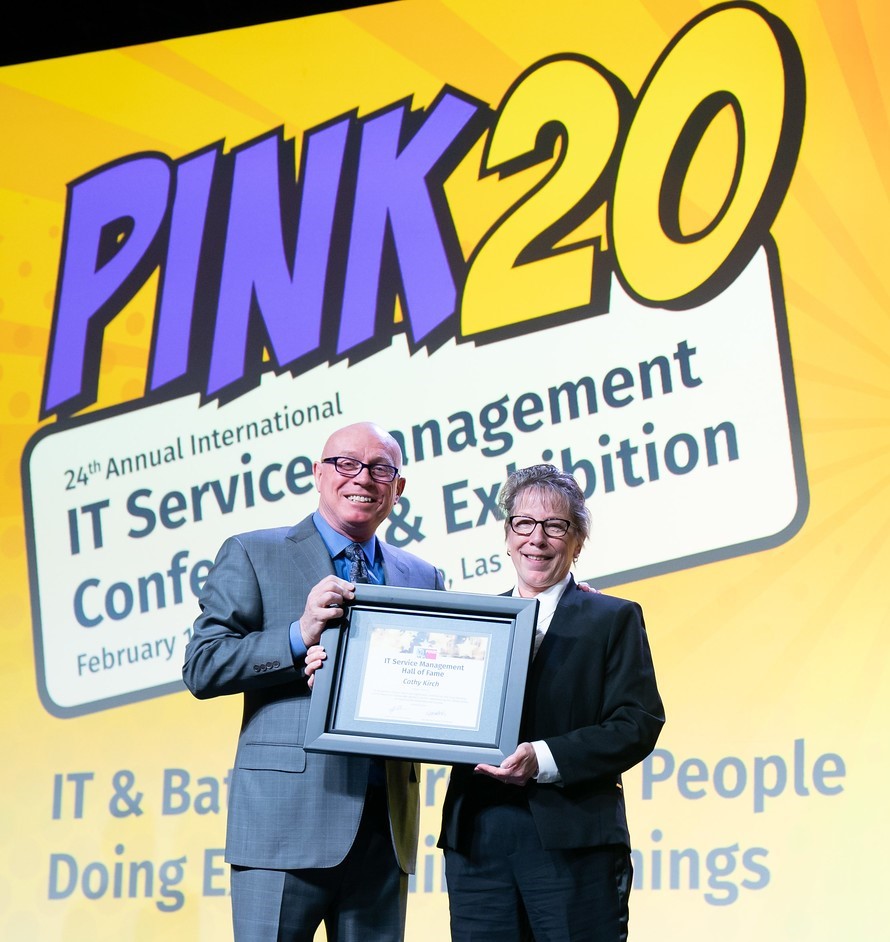 David Ratcliffe (Pink Elephant President), Cathy Kirch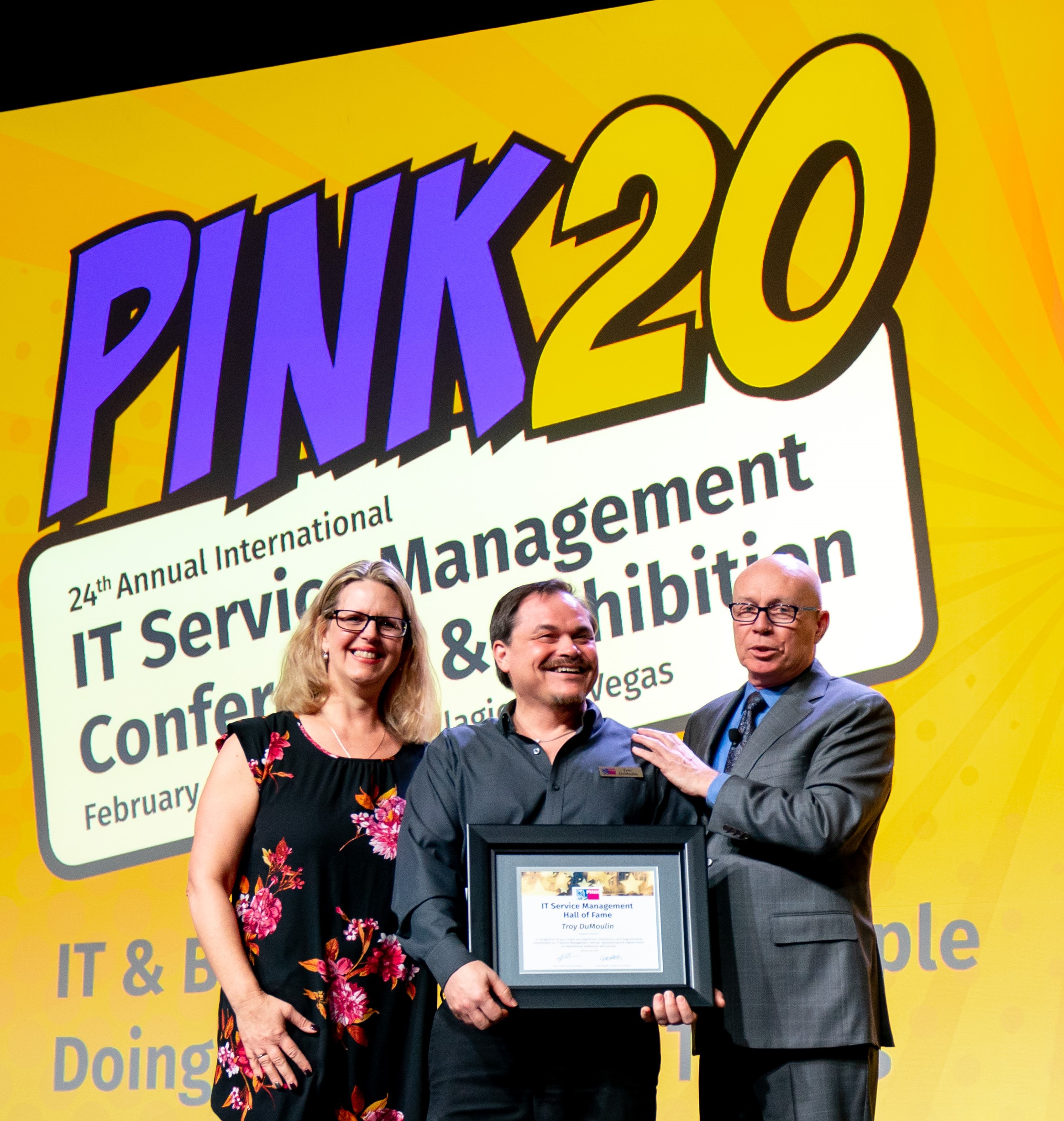 Christine DuMoulin (wife of inductee, Troy DuMoulin), Troy DuMoulin, David Ratcliffe (Pink Elephant President)
How Are Inductees Selected?
The next round of inductees will be introduced on February 23, 2021 at Pink21, Pink Elephant's 25th Annual IT Service Management Conference & Exhibition, at the Bellagio, Las Vegas.
Do you know someone who should be in the "Pink Elephant IT Service Management Hall of Fame" Click here to submit a detailed narrative about their long-standing work in the IT Service Management arena and why you think they are so deserving. After review, your submission will be acknowledged and you may be contacted to answer additional questions or provide more details.