Upskill your leadership abilities!
Driving and inspiring change is a challenge for many organizations and leaders. Some get it right and for those who do, there are very specific critical success factors. What are these factors – this course tells you!
While the course focuses on leaderships skills needed for successfully leading people through change, the course content can be applied to everyday people management too. Understanding the following should be part of every leader's toolkit: team dynamics; how to develop communication strategies; how to assess individuals' motivational drivers; and how to demonstrate influential and inspirational leadership.
INTEGRATED IT BUSINESS MANAGEMENT DESIGNATION SCHEME™
---
This certification course is part of Professional Designations' new designation scheme for Integrated IT Business Management™ and is required to achieve the following designations:
Integrated IT Business Management Champion™
Organizational Change Management Architect™
Click on the graphic below to enlarge.
Course Overview
---
This three-day course provides attendees with the core concepts and leadership practices intrinsic to organizational change management, as well as strategies on how to gain employee commitment and overcome resistance. Participants will obtain knowledge of techniques for inspiring and leading staff to embrace and sustain change to keep the organization moving in the right direction.
The course also goes beyond concepts and, using the 20/20 change model, participants will engage in many practical exercises and case studies to apply best practices for leading change.
By using the 20/20 model as a framework, attendees will learn how to define why a change is necessary and why getting the right leadership support is important, as well as how to put together a detailed plan for the change, execute the change plan, and ensure the change is sustained in the organization. There is a lot of discussion about how to practically apply what you have learned in class to your organization.
What is the 20/20 Change Model?
---
The 20/20 change model is a four-phase model that first clarifies your organization's business objectives, ensures the change initiative will align with the over-arching business objectives, and embeds the change within the culture and practices of the organization.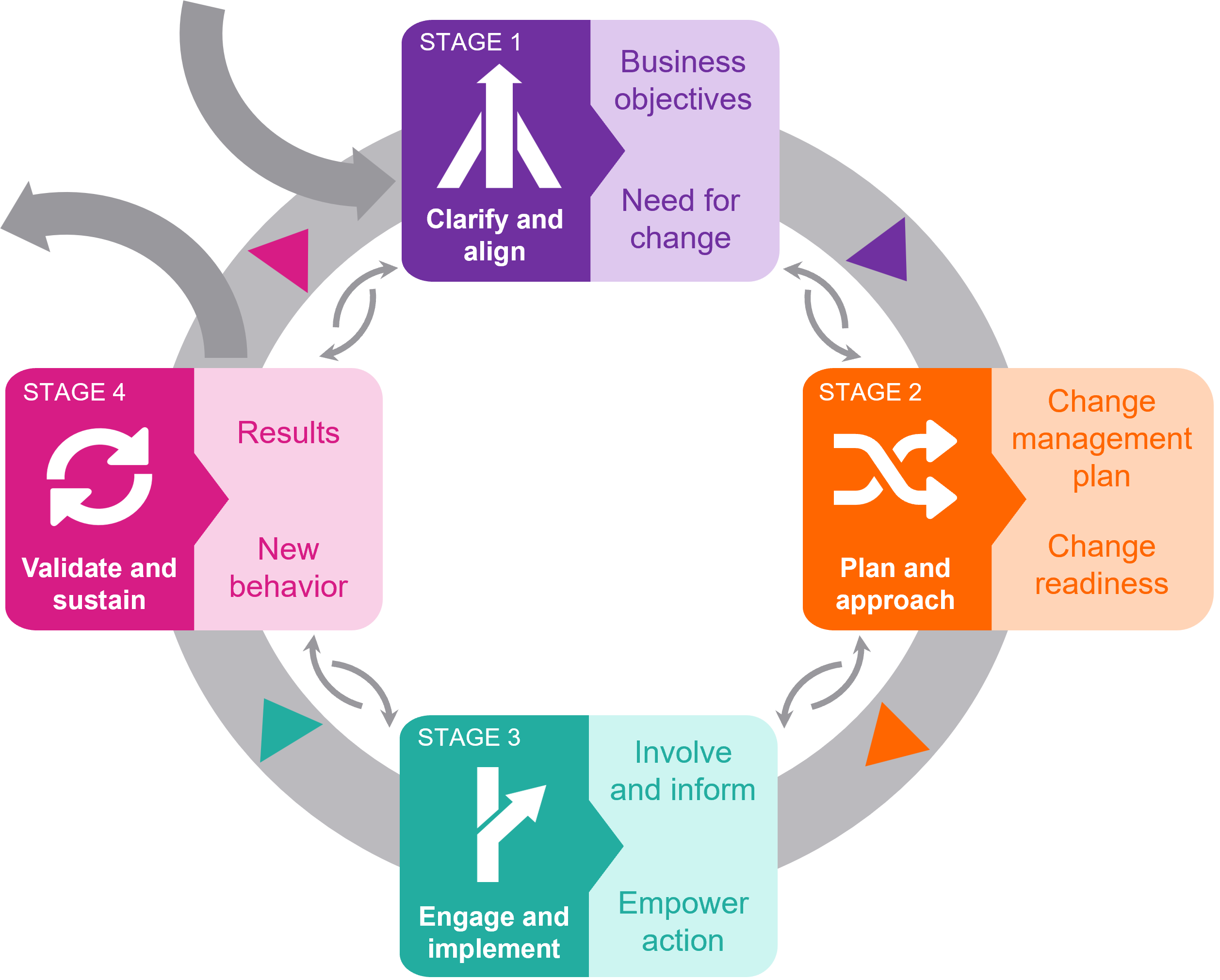 Here are the four phases of the 20/20 Change Model:
Phase I – Clarify and Align
Pinpoint the business objectives that your project or team needs to align with and determine what needs to be done to realize these objectives, as well as whether it's worthwhile to undertake this project right now.
Identify how this project will move the organization closer to achieving its business objectives, which will make it clear how near/far your team's objectives are from those of the business.
Phase II – Plan and Approach
Determine the various steps that need to be taken to implement this change, including what needs to be done, by who, and with what resources.
Decide on an appropriate methodology and, as you proceed, continually validate progress to ensure you are on the right track.
Phase III – Engage and Implement
Determine how to engage with your people to empower them with everything they need to get the job done, as well as to accept and adapt to the change.
Remember that as a leader your job is to help others achieve stated goals.
Phase IV – Validate and Sustain
Determine if you have accomplished what you set out to do by:

Identifying key performance indicators at the outset and validating they are being achieved as you proceed.
Observing the impact of the change on customers and business goals.
Observing if employees are truly committed to the permanence of the change, working in a different and more efficient way, and if they are motivated to build on the change through additional improvements and benefits.
Learning Outcomes
---
Course participants will learn how to:
Use specific leadership theories and team dynamic concepts to manage people through the major phases of change – unfreeze, change, freeze
Use the 20/20 organizational change model to lead and manage people through a change initiative
Apply a SWOT analysis to understand the organization's external and internal environment to help leaders define the problem that needs to be solved and create a sense of urgency about it
Develop an organizational change management plan to define, agree-upon, and manage the work effort needed for the people side of a change initiative
Build an effective change leadership team and change agent network to support the change initiative
Develop an organizational change vision, strategy, and road map
Understand why a stakeholder engagement plan is important, and what the best practices are for creating and executing an effective plan
Understand why communication as well as training and development plans are important, and what the best practices are for creating and executing effective strategies and plans
Assess organizational change readiness to ensure the organization has the right change capacity and capability
Provide the right leadership style to lead the planned change activities
Develop quantitative and qualitative user adoption measures to show the positive effects of the people side of change
Identify the activities required to formally close the organizational change management initiative and transfer ownership for sustaining the change to the relevant stakeholders
Use the templates from the course, based on the 20/20 organizational change model, and understand the many key questions you need to ask under each of the model's components
Who should attend?
---
This is a management-focused course and designed for those who lead, manage, and/or support organizational change initiatives, including:
Senior leaders/managers: CIOs, VPs, AVPs, directors
Program, project, and business managers
Change managers/leaders and change agents
Business analysts
HR and organizational development practitioners
Individuals aspiring to become change managers and leaders
Course Instructor
---
The course is taught by one of Pink's most senior consultants – all of whom have decades of experience helping organizations plan for and implement major change. During the course and based on their consultants' case books, there are numerous real-life examples discussed that detail how leaders have applied the concepts and theories described throughout the agenda.
Exam & Certification
---
The exam is offered through Professional Designations Corp.
One-hour, closed book, and consists of 30 multiple-choice questions.
A passing score of 60% – 18 correct answers – is required.
After completion of this course, you may apply for self-directed learning PDUs through PMI. A letter of attendance is available upon request.
Course e-Materials
---
Material for this course will only be provided as downloadable soft-copy files that can be viewed on a variety of devices. Attendees may print a hard copy of the files in whatever format best meets their needs and can only use the files under Pink Elephant's Terms of Use.
MULTIPLE OPTIONS FOR HOW YOU CAN ATTEND THIS COURSE
---
If you would like more information on any of the options below, please call us at 1-888-273-PINK, email us at info@pinkelephant.com, or ask your questions via our convenient Chat window at the bottom-right corner of this page.
Training Method
Description
Purchase Options
Self-Paced Online (SPO)
(Purchase now and get access November 2023)
Learn at your own pace from your computer, anywhere at any time. Get the FULL course in an e-learning format for 12 months.
If you are an individual:

Purchase below in the shopping cart.

If you are looking to train your team:

Purchase a Team SPO Training Pass – purchasing your seats in bulk means volume discounts, which vary depending on how many seats you purchase at once.

To get a quote, open the Chat window below, or contact info@pinkelephant.com.
Public, Virtual Web-Based
On specific dates through the year; hosted live, online, with our expert instructor.
If you are an individual:

Purchase below in the shopping cart.

If you are looking to train your team:

Purchase a Team Public Training Pass – purchasing your seats in bulk means volume discounts, which vary depending on how many seats you purchase at once.

To get a quote, open the Chat window below, or contact info@pinkelephant.com.
Team Training
On dates convenient to you; exclusively for your team, hosted live online or at your location with our expert instructor.

Get a quote to train your team – open the Chat window below, or contact info@pinkelephant.com.
Shopping Cart
---
View terms and conditions related to public courses.
Fees do not include applicable tax, which is payable for all events presented in Canada.
To purchase the Organizational Change Management Essentials course, select one of the options below: