Lean is a proven quality and continuous improvement system that was first introduced in the 1950s by Toyota and has since been used by numerous manufacturing and services organizations.
At Pink Elephant, we strongly believe that "Lean thinking" needs to be a part of EVERY IT professional's toolkit. Already, many roles from service desk analysts through to process owners, team leads and supervisors, and department managers, as well as CIOs, have taken this course and benefited greatly from a deeper understanding of how to assess business processes to identify and eliminate waste.
Lean IT provides practical guidance that focuses on the improvement of whatever processes already exist within the organization. Regardless of the framework or standard your IT organization has chosen, the central focus of Lean IT is learning how to assess any business process to eliminate waste, where waste is defined as something that adds no value to a product, service, or output. It is also a crucial and basic approach that can help an organization better position itself to begin its digital transformation journey.
Already, hundreds of thousands of IT professionals from all levels — operational, tactical, and strategic — express their satisfaction about having taken the Lean IT Essentials certification course and implementing its value-added and cost-cutting process improvement activities. Here's the view of a major insurance company IT executive:
"To date, close to 300 of our staff have taken Lean IT courses. And more to go. I strongly believe that applying Lean and Six Sigma to IT processes has enabled us to gain numerous efficiencies…I would highly recommend Lean IT training to everyone (except our competition)."
Another client shares their recent success with Lean IT in this Pink blog post: Case Study: A Major Financial Institution Embraces Virtual Team Training.
Is your organization ready to realize the benefits of implementing Lean IT?
LEAN IT BENEFITS
---
The principles of Lean IT are applicable to all IT operations regardless of industry or sector. Any organization that effectively applies Lean IT will notice increased user and customer satisfaction, reductions of IT costs, increased productivity, and an ability to manage demand more efficiently.
Implementing Lean IT's mindset, concepts, and techniques can lead to:
Enhanced customer satisfaction and increased loyalty:

Adds more value while reducing sources of waste
Improves throughput by reducing waste
Increases agility and the ability to adapt

Greater strategic value results in:

Better quality services
Increased productivity through improved resource management
The increased involvement and motivation of employees

Improved financial value: Lean is NOT a cost-reduction initiative, but the following provide a secondary and positive impact on an organization's financials:

The reduction of process waste
The optimization of value-adding work
The above improvements can lead to a reduction in the duration between the order intake and delivery, which will improve cash flow.
INTEGRATED IT BUSINESS MANAGEMENT DESIGNATION SCHEME™
---
This certification course is part of Professional Designations' new designation scheme for Integrated IT Business Management™ and is required to achieve the following designations:
Integrated IT Business Management Champion™
Integrated IT Business Management Professional™
Click on the graphic below to enlarge.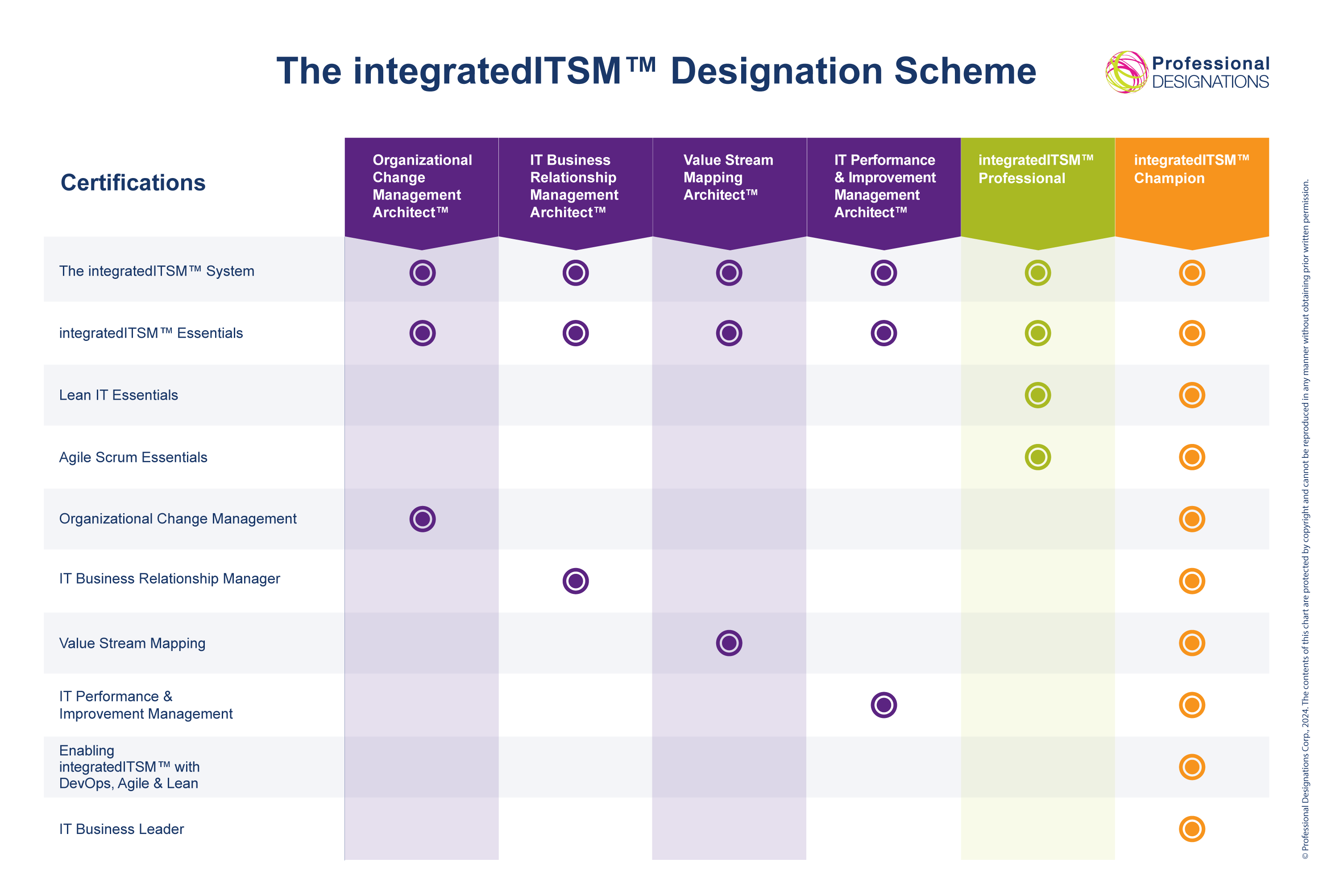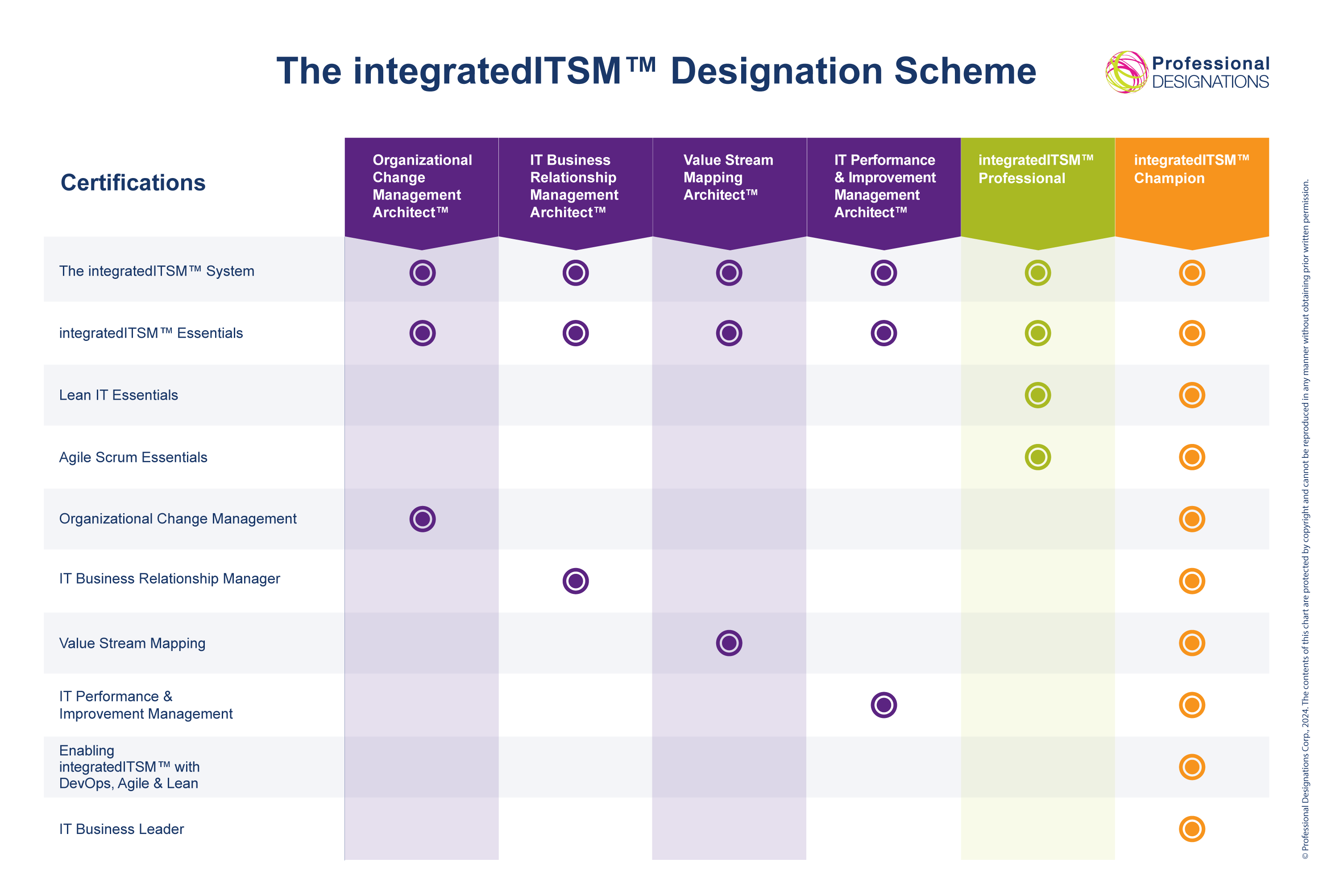 COURSE OVERVIEW
---
The Lean IT Essentials entry-level course is the first in the Lean IT certification scheme that's been defined by Professional Designations Corp. (PDC), and it is a mandatory requirement for taking the other two advanced courses: Lean IT Kaizen and Lean IT Leadership.
This course prepares you for the exam leading to the Lean IT Essentials certificate. Based on the core principles of Lean, the two-day Essentials course will help IT departments become more business-value oriented, which will result in removing waste, inflexibility, and variability.
LEARNING OUTCOMES
---
Lean IT Essentials focuses on providing actionable improvements to six major components: the customer, processes, performance, the Lean organization, behavior and attitude, and problem-solving/kaizen.
Upon completion, participants of this course will be able to:
Describe the origin, development, and purpose of the Lean and Six Sigma philosophies – which includes their key elements and the five Lean principles
Understand the concept of the voice of the customer and the factors that influence customer value, etc.
Recognize the concept of waste – and how to reduce and/or eliminate it
Understand how to define, initiate, document, and implement process improvements and how they relate to value improvement, etc.
Understand the definition of performance measurement and how it relates to value stream maps and process cycle efficiency, as well as the requirements for key performance indicators (KPIs), etc.
Understand the organizational requirements for a Lean IT organization that includes the importance of customer orientation, empowering employees, implementing visual management, etc.
Identify the characteristics of Lean thinking, the differences between traditional management and Lean leadership, and the behavior and attitudes required to successfully implement Lean, etc.
Identify and implement the key aspects of problem-solving and kaizen as forms of continuous improvement, which include being able to apply various Lean analytical tools:

A3 thinking – This is a visual method for structured problem-solving.
Deming (or Shewhart) cycle – This explains how to apply the cycle of continuous improvement: plan-do-check-act.
The Toyota production system – One of its basic concepts is: Go, look, and see (fact not emotion).
Value stream mapping – This shows how to apply Lean IT principles to a value stream.
The concept of kaizen, also known as continual improvement, is applied across the organization to systems, processes, and activities.
And much more
WHO SHOULD ATTEND?
---
This course is designed for EVERYONE! Operational, tactical, or strategic – all levels of IT professionals will benefit from attending Lean IT Essentials.
PREREQUISITES
---
There are no prerequisites for Lean IT Essentials.
EXAM, CERTIFICATION & AWARDS
---
This course prepares you for the examination leading to the Lean IT Essentials certificate.
The exam is 60 minutes in duration, includes 40 multiple-choice questions, and is administered online by an independent examination body.
Participants are provided with an exam voucher so they can schedule the exam at their convenience on any date after completion of the course.
You must attain a passing mark of 65% to attain your certificate.
After completion of this course, you may apply for self-directed learning PDUs through PMI . A letter of attendance is available upon request.
See the Lean IT Certification Program and Designation section (below) for more details on how to obtain your Lean IT Professional designation.
COURSE E-MATERIALS
---
Materials for this course will only be provided as downloadable soft-copy files that can be viewed on a variety of devices. Attendees may print a hard copy of the files in whatever format best meets their needs and can use the files under the Pink Elephant Terms of Use.
COURSE READING
---
Materials included with this course provide a very good overview of the concepts and principles, and adequately prepare attendees for the exam.
MULTIPLE OPTIONS FOR HOW YOU CAN ATTEND THIS COURSE
---
If you would like more information on any of these options below, please call us at 1-888-273-PINK, email us at info@pinkelephant.com,or ask your questions via our convenient Chat window at the bottom-right corner of this page.
Training Method
Description
Purchase Options
Self-Paced Online (SPO)

Learn at your own pace from your computer, anywhere at any time. Get the FULL course in an e-learning format for 12 months.
If you are an individual:

Purchase below in the shopping cart.

If you are looking to train your team:

Purchase a Team SPO Training Pass – purchasing your seats in bulk means volume discounts, which vary depending on how many seats you purchase at once.

To get a quote, open the Chat window below, or contact info@pinkelephant.com.
Public, Virtual Web-Based
On specific dates throughout the year; hosted live, online, with our expert instructor
If you are an individual:

Purchase below in the shopping cart.

If you are looking to train your team:

Purchase a Team Public Training Pass – purchasing your seats in bulk means volume discounts, which vary depending on how many seats you purchase at once.

To get a quote, open the Chat window below, or contact info@pinkelephant.com.
Team Training
On dates convenient to you; exclusively for your team, hosted live online or at your location with our expert instructor.

Get a quote to train your team – open the Chat window below, or contact info@pinkelephant.com.
SHOPPING CART
---
View terms and conditions related to public courses.
Fees do not include applicable tax, which is payable for all events presented in Canada.
To purchase the Lean IT Essentials certification course, select one of the options below: