How Can Pink Elephant Consulting Expertise Help You & Your Organization?
How and when to use external resources are very important decisions that can either fast track you on the way to achieving your desired results, or end with you wasting a great deal of money with little to no real lasting impact or value for your investment.

Why Choose Pink For Consulting?
Our experienced consultants are industry leaders and are specifically trained to adapt, adopt and combine frameworks at a fit for purpose level to fit your company's unique situation
We provide a full lifecycle of solutions in our assessments, strategic planning, implementation and continuous improvement coaching to help you achieve top-notch results
We apply a holistic approach considering the People, Process, Product and Partner aspects unique to your organization and ensure they are considered throughout the consulting process
As your trusted advisor, we transfer knowledge and skills to you and your team and work with you hand-in-hand every step of the way

Achieving Results That Matter
Pink Elephant has developed industry-leading onsite team workshops, simulations and assessments which can be tailored to your organization's specific needs. We like to say that we translate knowledge into real world results. For nearly 40 years, we have made it happen for hundreds of satisfied organizations. Take a look at the diagram below to better understand how our unique Transformation Lifecycle Approach can be customized for your organization.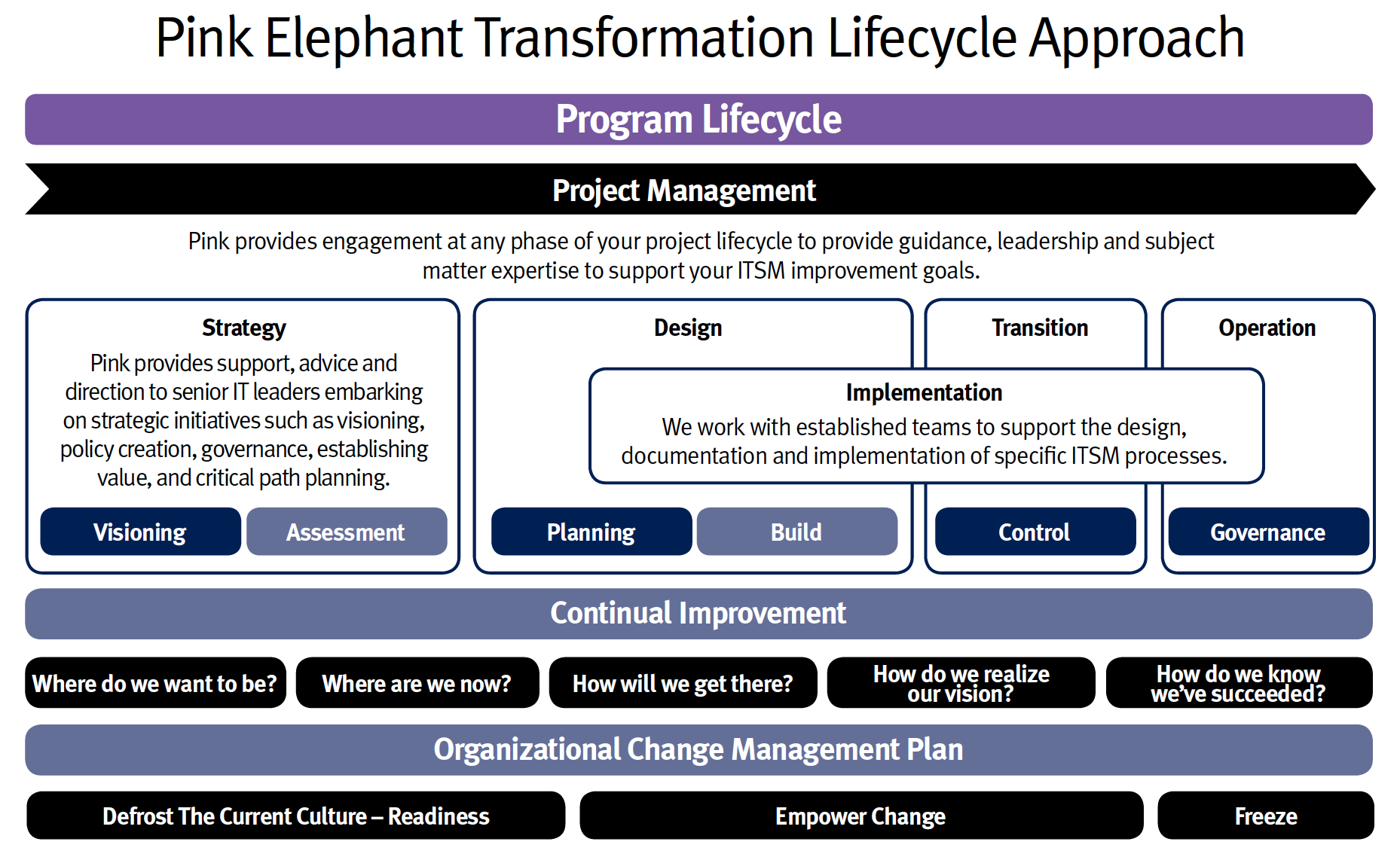 As trusted advisors, our experienced consultants are responsible for enabling and supporting project sponsors, process owners, project managers, and internal process teams by providing advice, proven methods, and a host of resources and online tools from our experience with past project successes.
To learn more about how Pink Elephant can help you define, drive and realize your business vision contact us at 1-888-273-PINK or email us.